It's one day removed from the date but I am honoring the anniversary of a great concert in Milwaukee history by posting my review of Farm Aim 25,  at Miller Park on October 2, 2010.
October 2, 2010 
Farm Aid 25 Does Heavy Hauling for America's Family Farmers
MILWAUKEE — It took a quarter of a century for the players in this farm system to make it to the majors.
But Farm Aid 25 proved it ain't no game though, heck, it was at least as fun as any Brewers outing, to judge from the 35,000 who rocked Miller Park Saturday, along with the many dedicated musicians who filled the ten-hour event.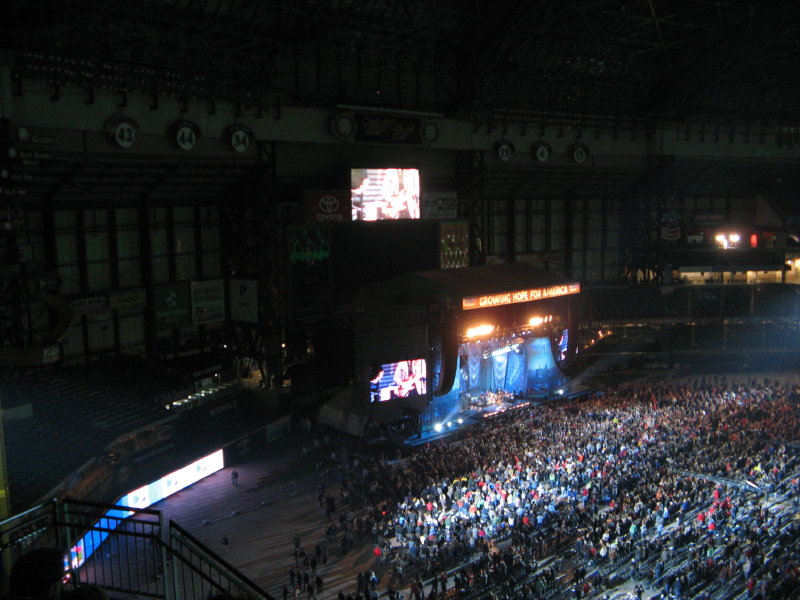 Farm Aid 25 at Miller Park. Courtesy Onmilwaukee.com
The first Farm Aid drew 78,000 in Champaign, Illinois in 1985. Today it's the longest-running concert benefit in the U.S, having raised $37 million over those years. And co-founders Willie Nelson, Neil Young and John Mellencamp – who all performed Saturday with style and passion – have been stars for decades. So the event's 25th anniversary in its first major league stadium only served to remind people of a team effort as heroic as a two-outs, walk-off grand slam in the bottom of the ninth.
The hero's stance is somewhat different now. Farm Aid now does heavy work on the promotional tractor hauling the local sustainable food movement to public awareness. They're helping push for organized family farming and healthy food choices as refurbished tools for economic revitalization of America through "family farm food systems" based on alliances, economic stewardship and well being of community and public health (see farmaid.org for more information on this)
They still proselytize for the ongoing plight of America's family farmers in the face of corporate farming's razing of the small farm business model. In the pre-concert press conference, Neil Young, Farm Aids' resident corporate gadfly, asserted that big-business farms "create and spread disease and are inhumane to animals" and ravage the ecosystem.
Yet, as perennial good guy Nelson says, "We started out trying to save the family farmer and now it looks like the family farmer is going to save us."
Farm Aid co-founder Willie Nelson at Farm Aid 25 in Milwaukee OnMilwaukee.com
With a majority of this huge throng appearing to be under 30, the message seemed to connect with the generation that must take up the mantle of leadership.
Many of them sang along from memory to lyrics of musicians old enough to be pa or grandpa. While Mellencamp did his harrowing farm tragedy saga, "Rain on the Scarecrow," even a young stadium security guard sang along, with his back to the stage and eyes diligently scanning the crowd.
Yes, there'd been plenty of tailgating beforehand, which kept attendance at a slow trickle-in though the early afternoon acts like Randy Rogers, Robert Francis, Jamey Johnson and the Blackwood Quartet. Among those, the act too many missed was Johnson, whose Moses beard and hair hang as long as his foghorn voice resounds deep, seeping into the darkest caverns of the heart, with deftly self-deprecating storytelling. His Depression-survivor song "In Color" deserves to be a widely-covered classic, though I doubt anyone could deliver such craggy authenticity as does Johnson.
Though now middle-aged thick and lovable-attire slob, Mellencamp can still ignite and work a crowd – into what Quakers call (not so) gentle persuasion: At one point he asked all of the cell-phone toting fans to immediately call a friend to "thank them for supporting Farm Aid."
He even grabbed one fan's phone and thanked a doubtlessly startled "Steve," on the call's receiving end.
Farm Aid co-founder John Mellencamp at Farm Aid 25. Courtesy milwaukeejournal-sentinel.com
By then, the crowd seemed primed to attack the back forty, after a bracing but short set from Milwaukee's own seminal roots rockers The Bo Deans, and a beguiling one from Philadelphia folk-soul troubadour Amos Lee, and another by the appealingly high-energy alt-roots rock Band of Horses, who are galloping up record charts these days.
Milwaukee's own, The Bodeans, at Farm Aid 25. milwaukeejournal-sentinel.com
Yet the crowd perked up for the almost effortless charm of two young pop music phenoms, Norah Jones and Jason Mraz. The line-up's only female act, Texas-raised singer-songwriter-pianist-guitarist Jones recently relocated to New York. She captivated with her sophisticated new look – punky page boy and fishnet stockings — and fluent eclectic flair, shifting from her sultry sweetheart mega hit "Come Away With Me" to Johnny Cash's honk-tony beer lament "Cry, Cry, Cry" to her own increasingly dark and thoughtful originals.
Norah Jones at Farm Aid 25. milwaukeejournal-sentinel
By contrast, Mraz seems like his own brand of endless sunshine with a voice as boyish as Paul Simon's but stadium-impact strong and with songs carrying a high melodic calorie count. He woos the listener like the boy Romeo next door, or the strapping young farmer down the road. He actually runs an avocado farm in California when not doing music or surfing. Too cool.
Between the Jones and Mraz sets, Jeff Tweedy — leader of the immensely popular and arty roots-rock band Wilco – delivered a curiously tepid solo set that suggested his true gifts are as a musical conceptualist/bandleader/songwriter.
You get the stylistic gist here — Farm Aid welcomes virtually all American music genres under its big farmer's market tent. And to wit, many fans also partook of the outdoor Homegrown Market and chatted with farmers about their issues and tasty wares even through cold wind and some rain. That interaction is part of the important underlying purposes of this musical harvest.
Back inside, time-conscious bandleaders too infrequently introduced their faithful band members. But the show rarely dragged with Willie Nelson stepping in to add his "Texas herb" aroma to the sets of Jones and Lee, and with contemporary country star Kenny Chesney showing gleaming vocal pipes and sporting a New Orleans Saints cap instead of the expected ten-gallon hat.
And few complained about nepotism when Willie's son Lukas Nelson scored a set, because he's inherited the old man's showmanship. No knockoff though, the younger Nelson's style strives to virtually channel the ghost of short-lived blues rock guitar legend Stevie Ray Vaughan. His guitar-string biting impressed some, but made you wonder if Willie feeds the kid enough.
Dave Matthews, the Gen-X rock star who joined the Farm Aid board of directors in 2001 and is the fourth perennial headliner, started his duo set with guitar ace Tim Reynolds by unleashing Bob Dylan's "All Along the Watchtower," which felt like a man reliving the song's wild tale as a primal-scream dream. His intensity cranked the crowd up to a level that Mellencamp rode masterfully.
Yet, for this baby boomer, and surely many others, this all climaxed with Young's set. He remains an uncanny blend of wizardly yet unpretentious song-storyteller/melody-spinner prone to deft feedback theatrics and spontaneous speeches. Few seem to care about farmers as much as he does. But an eloquent riff on being an aware consumer for small farm support –"read the label" is his mantra – immediately lost any hint of browbeating when Young launched into "Long May Young Run." This is a gloriously warm-hearted salutation to a friend he last saw alive "in Blind River in 1962." The winsome melody and sentiment seem to suggest – with a new line crucially added to the original lyrics – that the never-forgotten friend was a farmer.
Farm Aid co-founder Neil Young at Farm Aid 25. milwaukeejournal-sentinel 
Young's always had a quirky a genius for balancing his fiery social consciousness with mournful, humane soul. Accompanied only by his own scruffy-scarecrow presence and solitary electric guitar, Young's "Ohio" still seared into memories of the Vietnam war-era killing of four Kent State University student protesters by National Guard members.
Of course, Farm Aid always provides the salve of Willie Nelson to top off even reopened psychic wounds, and to send everyone home buzzed on musical vibe. That's from toking up on ol' Willie, twirling his smoky, behind-the-beat phrasing around another blessedly-crafted song. His concert-closing set ranged from tough blues-rock led by son Lukas, to reggae rhythms, to "one for Waylon." On cue, all the headliners joined onstage to sing "Good-Hearted Woman," a comfortable-as-worn-blue-jeans song by Nelson's fellow progressive-country "outlaw," the late, great Waylon Jennings.
Concert epics like this don't get much more golden.
It was well after 11 p.m. and co-sponsor Direct TV had been telecasting the concert since Mraz's set at 5, so one hoped the ideals and passion of this extraordinarily well-conceived and executed effort may spread like the winds of change, rather than like locusts or chemical farming-borne disease.
Time will tell. Meanwhile, long may Farm Aid run.
_______________
This review was originally published in YourNews.com, Madison edition
For videos about the Milwaukee event, go to www.farmaid.org.)