CD release party: for Discover by The Eric Jacobson Quintet, 7 p.m. Friday, Oct. 14 and Saturday, Oct 15, Blu nightclub, Pfister Hotel, 424 E. Wisconsin Ave. Milwaukee. Admission is free. 
Eric Jacobson is as accomplished and striking as any trumpeter in the upper Midwest. He has the brash, forceful power of a hard-bopper like Lee Morgan and the harmonic sophistication of a Freddie Hubbard or Woody Shaw.
That's the leading edge of why attention must be paid by modern jazz fans of most any persuasion to his new Origin records CD release Discover, and his two-night CD-release performance at Blu nightclub, in Milwaukee, on Friday and Saturday.
Blu regularly has top-notch local and touring jazz artists, but the venue is also notable for the most spectacular view of any music venue in the city, situated at the top floor of the 23-story Pfister Hotel tower, overlooking downtown Milwaukee, the Hoan Bridge, and the lakefront, with the Calatrava Windhover Hall of the Milwaukee Art Museum, and the War Memorial Center, all visible from Blu's sky view windows. In the evening, the view becomes noirishly glamorous.
Eric Jacobson has performed with Grammy© Award Winners Phil Woods, Benny Golson, Brian Lynch, Tito Puente Jr., and Eric Benet. He is a top-call trumpeter for high-profile gigs in Milwaukee, Madison, and Chicago. Jaconson performs in the windy city at the Green Mill, Jazz Showcase, Winter's Jazz Club, and Andy's Jazz Club with some of the top Chicago groups including The Chicago Jazz Orchestra, Chicago Yestet, Bakerzmillion, and Mark Colby's Quintet.
He's also Jazz Education Director of the Milwaukee Jazz Institute, after having spent many years on the faculty of the Wisconsin Conservatory of Music. (continued below)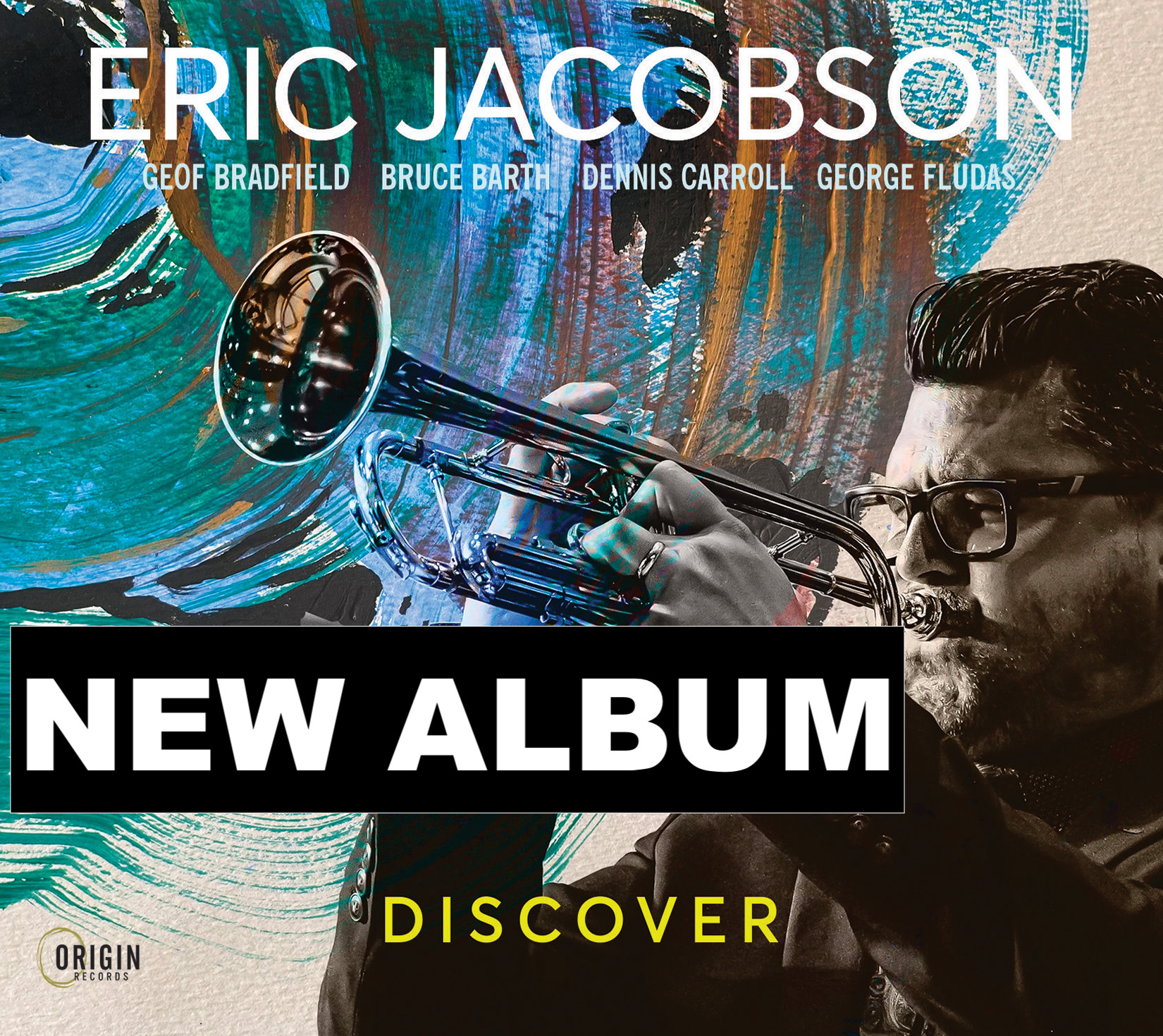 The CD release party will feature Chicago saxophonist Geof Bradfield, bassist Clay Schaub, and drummer Dave Bayles, Milwaukee's premier straight-ahead jazz drummer.
Bradfield, who played on Discover, has recorded on more than 50 albums, including eight as a leader. The DownBeat Critics Poll has named Bradfield a Rising Star Tenor Saxophonist and Arranger multiple years.
Quite notably the gig will also include two pianists, Bruce Barth, who also played on Discover, on Friday; and Reggie Thomas, on Saturday, both acclaimed players from from the East Coast. The bandstand should be burning and swinging, among other luminous qualities. And admission is free.
______________