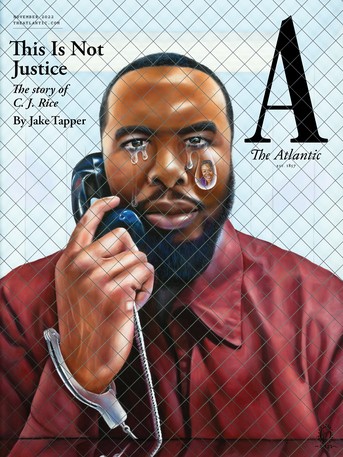 The cover of the print edition of the November 2022 The Atlantic. Courtesy The Atlantic
Not long ago, I said to a friend who, like most people today, does most of his reading online, that The Atlantic is the last magazine I would still subscribe to, if all others fell to the wayside by choice or circumstance.
I don't normally tout publications per se in this blog, but The Atlantic has been my favorite for quite a long time, and now it's editor has written a piece in the November issue that helps to explain why it is worthy of being a person's favorite.
Much of this has to do with the publication's storied history, having been born as an abolitionist magazine shortly before the Civil War. But current editor Jeffrey Goldberg opens his piece called "The American Idea" with an 1861 letter from Julia Ward Howe, expressing her melancholy and insecurities to the editor at the time. The editor, James T. Fields, was wise enough not to touch the copy of the poem she submitted with her letter. He gave it a title and published "The Battle Hymn of the Republic" on the first page of the February 1862 edition. "(Howe received, in return, a $5 freelance fee and immortality.)", Goldberg adds drolly.
He goes on to point out that The Atlantic, in its 166th year of continuous publication, also published for the first time, "Longfellow's "Paul Revere's Ride," and the first chapters of W.E.B. DuBois's The Souls of Black Folk, Robert Frost's "The Road Not Taken", and Rachel Carson's meditations on the oceans, and Einstein's denunciation of atomic weapons, and so on, ad infinitum."
Further, The Atlantic's founding mission statement (reproduced in Goldberg's article) was signed by various luminaries including Ralph Waldo Emerson, who appeared in the first issue; Oliver Wendell Holmes, who came up with The Atlantic's name; Nathaniel Hawthorne, who would become the magazine's Civil War correspondent; Herman Melville (Moby-Dick), and Harriet Beecher Stowe (Uncle Tom's Cabin), America's most popular author at the time.
Goldberg's only expressed regret about that time is that, given that Moby-Dick is his favorite American novel, that  Melville never found a way to contribute. That would be my sentiment exactly regarding Melville, who ended up publishing short pieces for Harpers, another long-time American magazine.
I have many reasons why the current magazine is my favorite, partly for it's intelligence, it's allegiance to no group, party or clique, and its cultural and political range. "We always try very hard to be interesting. That is a prerequisite," Goldberg explains.
They succeed, too, which is why, even though some stories are long "thumbsuckers," they almost invariably hold my interest and, if I don't finish them, it's my failing.
Here is Goldberg's introductory article in the latest issue in full: https://www.theatlantic.com/magazine/archive/2022/11/165th-anniversary-atlantic-magazine-founding/671523/
p.s. As for your blogger, I submitted an article once — about Wisconsin guitar innovator Les Paul, Bob Dylan and Michael Bloomfield — to The Atlantic and, though chagrined, I was honored to receive a personalized, hand-written "no thank you" note from an editor from the magazine. The article was eventually published in NoDepression.com. Here's the note. which I valued enough to frame.
________________